Hi guys! We finally got together a group to do Moribito costumes for the SoCal picnic last weekend, so I wanted to share the photos with you guys. This is kind of a test run for Fanime, we're hoping to have things more fine tuned in a couple of weeks.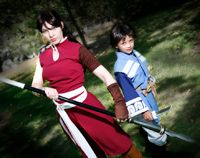 ( full photosCollapse )

There are a couple others (the shippy ones) at my coscom and my ACP.